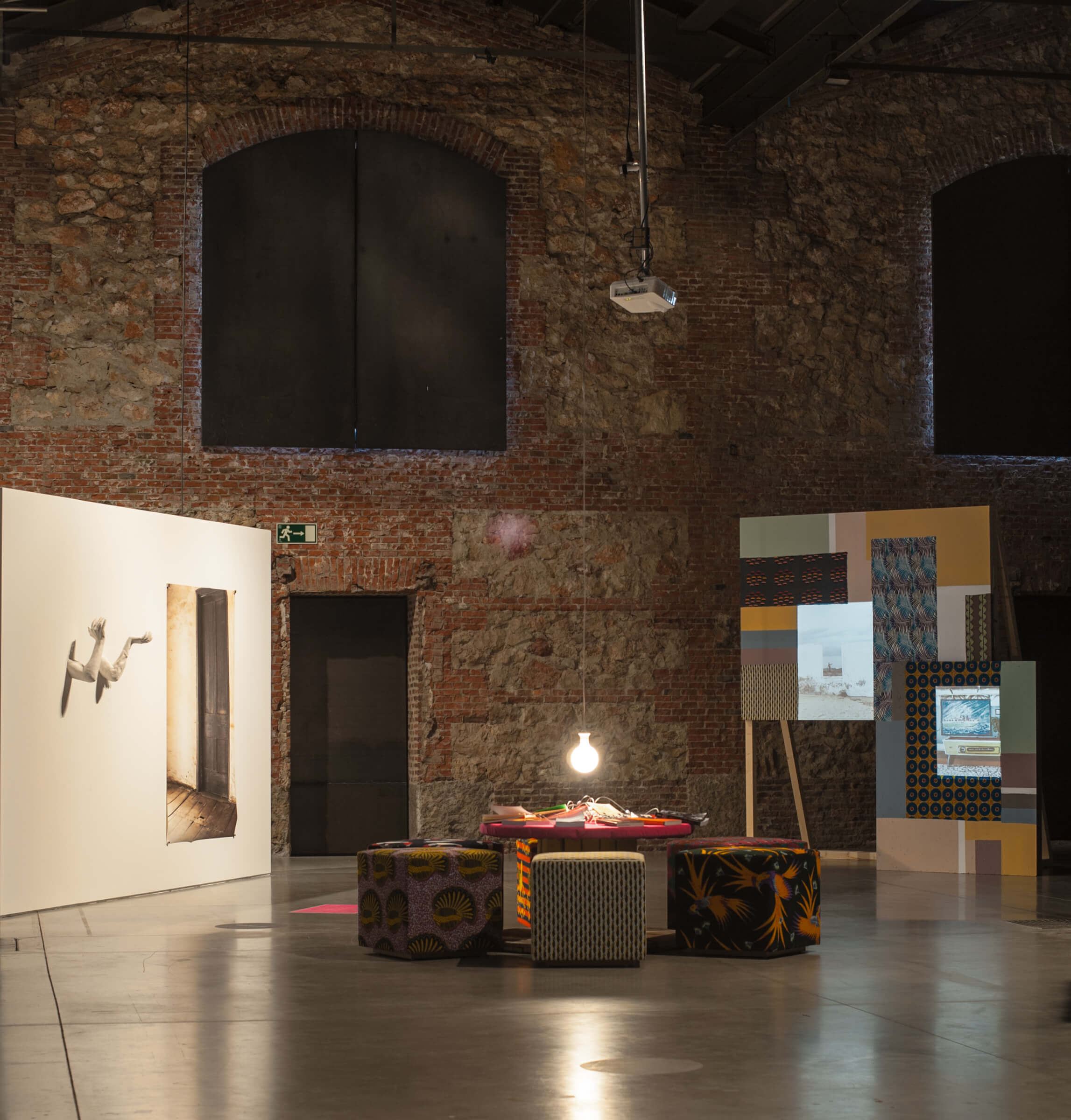 The book of Daniel tells us that being in her garden the beautiful Susana, wife of the rich Jew Joaquin, is seen and desired by two elderly judges who pressure her and try to convince her to give them sexually. Susana confronts them by categorically refusing. When rejected, the offended elders accuse her of adultery and condemn her to death by stoning. The prophet Daniel, then only a child, discovers the false testimony and gets these are condemned to die. Since then Susana is an ancestral symbol of the sexual integrity of women.
The lascivious gaze of the elder towards Susanne is a symbolic gesture that metaphorically is comparable to the relationship that the West has with the African continent, continuously desired at the cost of lies.

Artemisia Gentileschi painted in 1610, with only 17 years and a refined and virtuous style caravaggista, "Susana and the old". At the age of 19, being the access to the academies of Fine Arts exclusively masculine, his father -painter also- gives him a private preceptor. Like a macabre irony, the painting advocates what would happen two years later: Artemisia is raped by her master. The father denounces the rapist before a papal court and she is subjected to a humiliating gynaecological examination and tortured.

In the second half of the twentieth century, the proceedings greatly influenced a feminist reading of Artemisia. The female protagonists of her painting have a special attitude of courage, of physical and moral strength, of resistance to control.In those years the African coasts boiled in their splendour in the slave trade. In Ghana, the Portuguese and Dutch shared a terrifying business that would end up being called the Atlantic Trade, creating a triangle of human trafficking between Africa, Europe and America, being the basis of the economic progress of most of the colonizing countries. There, in the Elmina fort, the high command in charge made the women slaves go out to the courtyard, he selected one that, forced to go up through a trapdoor to his office, was raped.

History - geographies - women.
What does it mean to be a feminist in Africa?

This project is presented in installation format, consisting of 3 interrelated parts:


Sculpture: plaster reproduction of Susana's hands from Artemisa Gentileschi's painting "Susana y los viejos".
Photograph: Image of the trap door through which the slaves went up in Elmina (Ghana) during the time of slavery to be sexually abused by the colonists. Dimensions: 180 cm x 150cm.
Audiovisual installation: panel with geometric composition of colours combined with African fabrics of women's symbolism as a projection support for the projection of photographs with the theme of African women and their positioning in our days.
Reading point: library of titles related to African feminist movements, mainly by African women writers. Seats upholstered in African fabric with a subliminal message of women's rights claims.
Cuenta el libro de Daniel que estando en su jardín la bella Susana, esposa del rico judío Joaquín, es vista y deseada por dos ancianos jueces que la presionan e intentan convencer para que se les entregue sexualmente. Susana se enfrenta a ellos negándose rotundamente. Al verse rechazados, los ofendidos ancianos la acusan de adulterio siendo condenada a morir lapidada. El profeta Daniel, por aquel entonces sólo un niño, descubre el falso testimonio y consigue que sean estos los condenados a morir. Desde entonces Susana es símbolo ancestral de integridad sexual de la mujer.
La mirada lasciva de los viejos hacia Susana es un gesto simbólico que metafóricamente es comparable a la relación que tiene Occidente con el continente africano, continuamente deseada a costa de la mentira.


Artemisia Gentileschi pinta en 1610, con tan solo 17 años y un refinado y virtuoso estilo caravaggista, "Susana y los viejos". A los 19 años, siendo el acceso a las academias de Bellas Artes exclusivamente masculino, su padre -pintor también- le da un preceptor privado. Cómo una macabra ironía el cuadro preconiza lo que dos años más tarde sucedería: Artemisia es violada por su maestro. El padre denuncia al violador ante un tribunal papal y ella es sometida a un humillante examen ginecológico y torturada.


En la segunda mitad del siglo XX las actas del proceso influyeron enormemente en una lectura en clave feminista de Artemisia. Las figuras protagonistas femeninas de su pintura tienen una especial actitud de coraje, de fuerza física y moral, de resistencia al control. En esos años las costas africanas bullían en su esplendor en el tráfico de esclavos. En Ghana portugueses y holandeses se repartían un negocio terrorífico que se acabaría llamando la Trata del Atlántico, creando un triangulo de tráfico humano entre África, Europa y América, siendo la base del progreso económico de la mayoría de los países colonizadores. Ahí, en el fuerte de Elmina, el alto mando al cargo hacía salir a las mujeres esclavas al patio, seleccionaba una que, obligada a subir por una trampilla a su despacho, era violada.


Historia- geografías-mujer.
¿Qué significa ser feminista en Africa?

Este proyecto se presenta en formato instalación, constando de partes interrelacionadas:

Escultura: reproducción en escayola de las manos de Susana a partir del cuadro de Artemisa Gentileschi "Susana y los viejos"
Fotografía: Imagen de la trampilla por donde subían las esclavas en Elmina(Ghana) durante la época de esclavitud para ser abusadas sexualmente por los colonos. Dimensiones: 180 cm x 150cm.
Instalación audiovisual: panel con composición geométrica de colores combinados con telas africanas de simbología de la mujer como soporte de proyección de proyección de fotografías con temática de la mujer africana y su posicionamiento en nuestros días.
Punto de lectura: biblioteca de títulos relacionados con los movimientos feministas africanos, principalmente de escritoras africanas. Asientos tapizados con tela africana con mensaje subliminal de reivindicación de los derechos de la mujer